Death Cab For Cutie
at Große Freiheit. It was a good show, alas it felt a little weird to attend a kinda big show after all the gigs in small locations I saw lately. The venue was sold out and we were standing somewhere in the back, because we arrived late. It felt somewhat unpersonal to be inside an anonymous mass of people, though it was a nice crowd. I mentioned that the audience in Hamburg mostly acts reserved, but it was different at this show. It was a nice atmosphere; the people were cheering and the band seemed to be pleased with the warm reaction of the crowd and played a great and energetic set. The show had many highlights. They played most of the songs from their latest album 'Narrow Stairs' and classics like 'The New Year' and 'I Will Follow You Into The Dark' (the last one I enjoyed immensely). They played two encores including great songs like 'Twin Sized Bed' and 'Marching Bands Of Manhattan' (another one of my favorites). The song I was mostly looking forward to was 'I Will Possess Your Heart', the absolute highlight of the latest album; an eight minute epic rock song. They released it as a single in a lame, edited three minute version and I was afraid they'd play this mutilated corpse of a great song, but gladly they didn't. The version played wasn't as good and long as the album version, but it was nice enough to please me. They ended the set with 'Transatlanticism', another of their eight minute songs and only slightly shorter than the album version.
the atlantic was born today and i'll tell you how:
the clouds above opened up and let it out
I was standing on the surface of a perforated sphere
when the water filled every hole
and thousands upon thousands made an ocean,
making islands where no island should go
oh no

After that, Barb and me were having dinner at a tourist joint on Reeperbahn. Sadly, Barb decided to go home after that, because she was tired after a very hard week and didn't join me to meet up with Opp at Knust; another venue, where the Eldorado festival took place. This so called festival was a showcase by local bands. I couldn't care less for most of the bands playing there, but the
Honeyheads
were on the bill, so we decided to go. This was very, very different from the
Death Cab For Cutie
show, because it wasn't that crowded and again, I could stand in front of the stage, watching the band. They played a nice set and it was cool to see them with a good PA and a decent sound. They played some of my favorite songs like 'Out Of Marseille' and 'From A To B To See You' and we had a little talk with them. Again, they seemed to be somewhat stunned, that they really have fans and not just friends attending their show. On the other hand, they seemed to be kinda uncomfortable with the attention they got. Well, that's their problem I guess. But again I really liked it to be able to talk to the band after a nice set and to tell them they rocked. Here are some pictures I took with Opp's cam (I left mine at home because I was afraid that the bouncers at the
Death Cab For Cutie
show would cash it):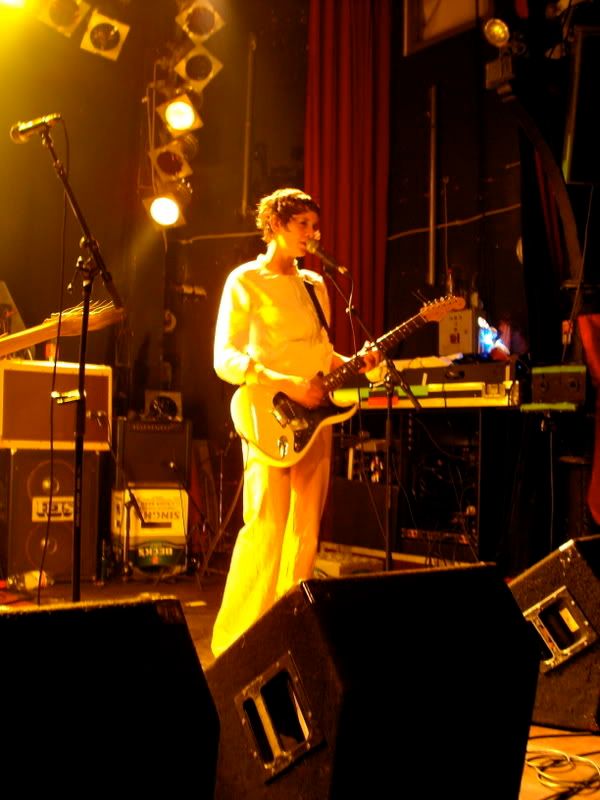 Oh, and here's me enjoying the show and a cool beer. The girl to the right in the background seems kinda pleased as well...:)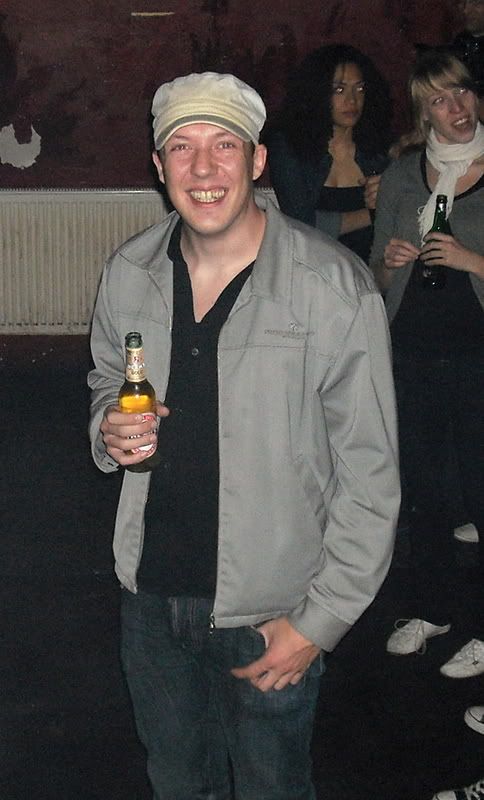 All in all, it was a nice evening with two great but very different shows. I can't remember when I last saw two good shows on one evening (besides festivals) and I really enjoyed it. Opp and I had nice talks, laughed a lot and I got home at four in the morning; slightly drunk and pleased by a very nice evening. Well, if Barb would've joined me for the
Honeyhead'
s show, the evening would've been perfect.
When you follow the..uhh...following link, you can find
Honeyhead
's 'Abhela Mestra'-tapes, early mixes of songs originally released on their now sold out EP on Cloudberry. I like these version much better than the Cloudberry stuff, so please listen and enjoy!
Honeyheads : 'Abelha Mestra Tapes'
Last saturday, Barb and me went to see